The new device from 2Btech.
After years of work, 2BTech launches their new product the AQsync. During a conference on October 6, 2021, 2BTech presented us their product.
You can find a part of this conference here
What is AQsync?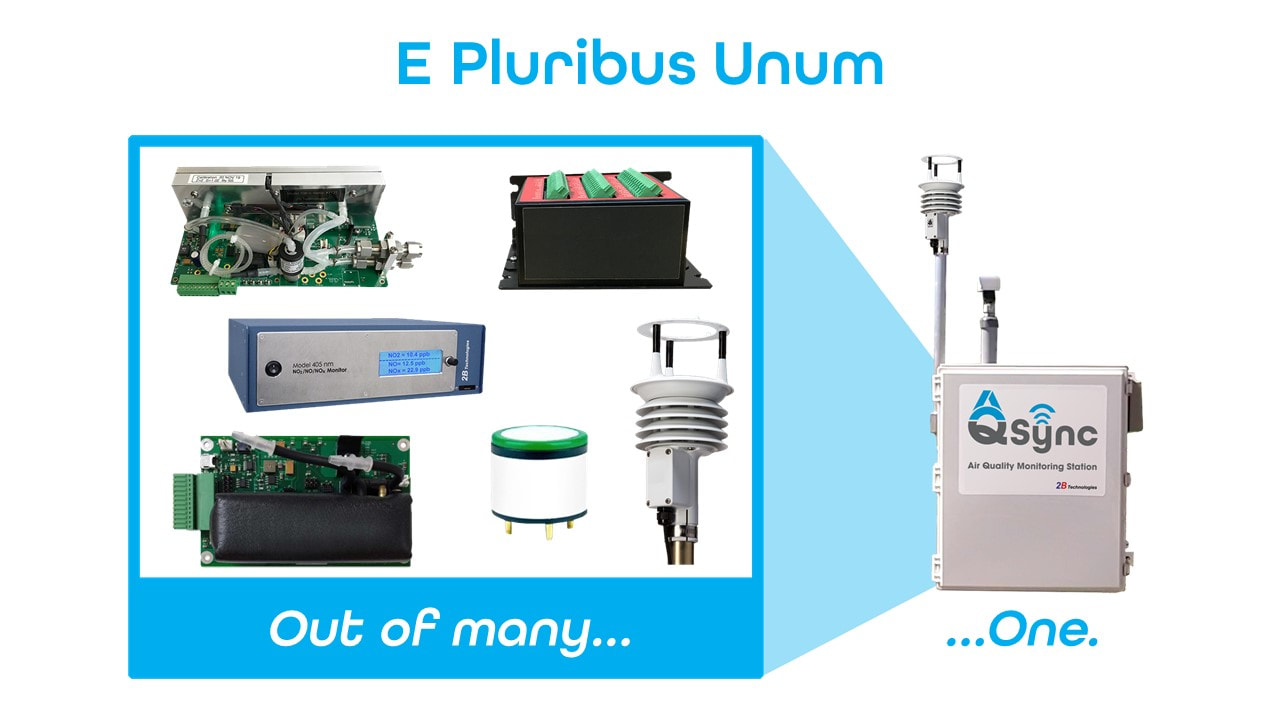 The AQSync is a compact, low-powered monitoring station that provides rapid measurements of all major air pollutants such as O3, NO, NO2, CO, CO2, PM1, and PM2.5.
This device also measures ambient temperature (T), pressure (P), relative humidity (RH), wind speed and direction,
All measurements are optical measurements except for CO which is measured by a temperature corrected electrochemical sensor.
In this device are several different monitors that are gathered in a compact system. The unit is housed in a rugged polymeric enclosure (24 x 20 x 10 in., 61 x 41 x 25 cm) with a NEMA 4 rating for outdoor applications.
The AQSync is designed to provide the most accurate measurements of the most important air pollutants using instruments small enough to fit in a relatively small enclosure and easy to deploy in outdoor environments.
Special Features:
The enclosure has a tamper-resistant door with key access and can be equipped to mount on a pole with a diameter of 3 to 12 in (7.6 to 30.5 cm).
Power is 110/220 ac and can be optionally supplied by a solar panel.
Operators can directly operate the system and change parameters such as integration times, data transfer rate, and calibration factors by accessing the user interface, either through the internal touchscreen or remotely via the cellular Internet connection.
The individual measurement modules are designed to be easily removed for maintenance.
Data is streamed over the web via a cellular connection, and a data logger with a removable microSD data card allows for on-site data backup with a storage capacity of over one year.
FEM quality absorbance measurements for O3, NO2, and NO
NDIR absorbance for CO2
Light scattering particle detection with sheath flow and heated inlet for PM1, PM2.5, and PM10
Amperometry for CO
Sonic anemometry and meteorological data
Data access and instrument control via the cloud
Power consumption requirements allow a choice of battery or solar panel power.
Physical Specifications:
Weight: 35 lbs, 15.9 kg
Power: 25 watts (42 watts during warm-up)
Sample flow rate: 3 L/min
Size: 24 x 20 x 10 in (61 x 41 x 25 cm)
We present you the measured air pollutants and the associated device:
Ozone (O3)
Ozone is measured by the OEM-108-L monitor on the basis of UV absorption at 254 nm:
Measurement Method: UV absorption at 254 nm
Instrument: 2B Technologies Model 108-L
Linear range: 0-100,000 ppb
Accuracy: 1.5 ppb or 2% of reading for a 10 second average
Accuracy: 1.5 ppb or 2% of reading
Response time: 4 s for a 2 s average, 20 s for a 10 s average
Nitrogen Dioxide (NO2) and Nitric Oxide (NO)
NO2 and NO are measured by the 405 /NO2/NO/NOx monitor:
Nitrogen dioxide (NO2)
Measurement method: Direct absorption at 405 nm
Instrument: 2B Tech Model 405 nm NO2/NO/NOx Monitor
Linear range: 0-10,000 ppb
Accuracy: 0.5 ppb
Accuracy: 2 ppb or 2% of reading
Response time: 20 s
Nitric oxide (NO)
NO is first converted to NO2 by a reaction with O3 and then measured by direct absorption at 405 nm:
Measurement method: Oxidation to NO2 with O3
followed by absorption of NO2 at 405 nm
Instrument: 2B Tech Model 405 nm NO2/NO/NOx monitor
Linear range: 0-2,000 ppb
Accuracy: 0.5 ppb
Accuracy: 2 ppb or 2% of reading
Response time: 20 s
Particulate matter (PM1, PM2.5, PM10)
PM1 (black carbon) and PM2.5 are determined by measurements made with an optical particle counter from another supplier. The particulate matter is measured by :
Measurement method: Optical particle counter,
8 channels, 0.3-2.5 μm
Instrument: Particulate matter analyzer (other than 2Btech supplier)
Linear range: 0-1,000 μg/m3
Accuracy: 0.1 μg/m3
Accuracy: ≤ 5 μg/m3 + 15% of reading
(better with local calibration vs. FEM/FRM)
Response time: 1 s
Carbon Dioxide (CO2)
CO2 is measured by infrared absorption using an NDIR sensor
Measurement method: Non-dispersive infrared (NDIR) absorption
Instrument: CO2 gas analyzer (other than 2Btech)
Linear range: 0-1,000 ppm
Accuracy: 1 ppm
Accuracy: 5 ppm
Response time: 10 s
Carbon monoxide (CO)
Measurement method: Amperometric
Linear range: 0-50 ppm
Sensor: CO analyzer (other than 2Btech)
Accuracy : 0.02 ppm
Accuracy : 0.1 ppm
Response time : 20 s
2Btech works as often as possible with their own devices, however the price of the devices using UV is high, they use sometimes devices from external suppliers with other technology. Like for the measurement of particulate matter or carbon dioxide and monoxide.
Temperature, air pressure and relative humidity are measured as well as wind speed and direction with a sonic anemometer.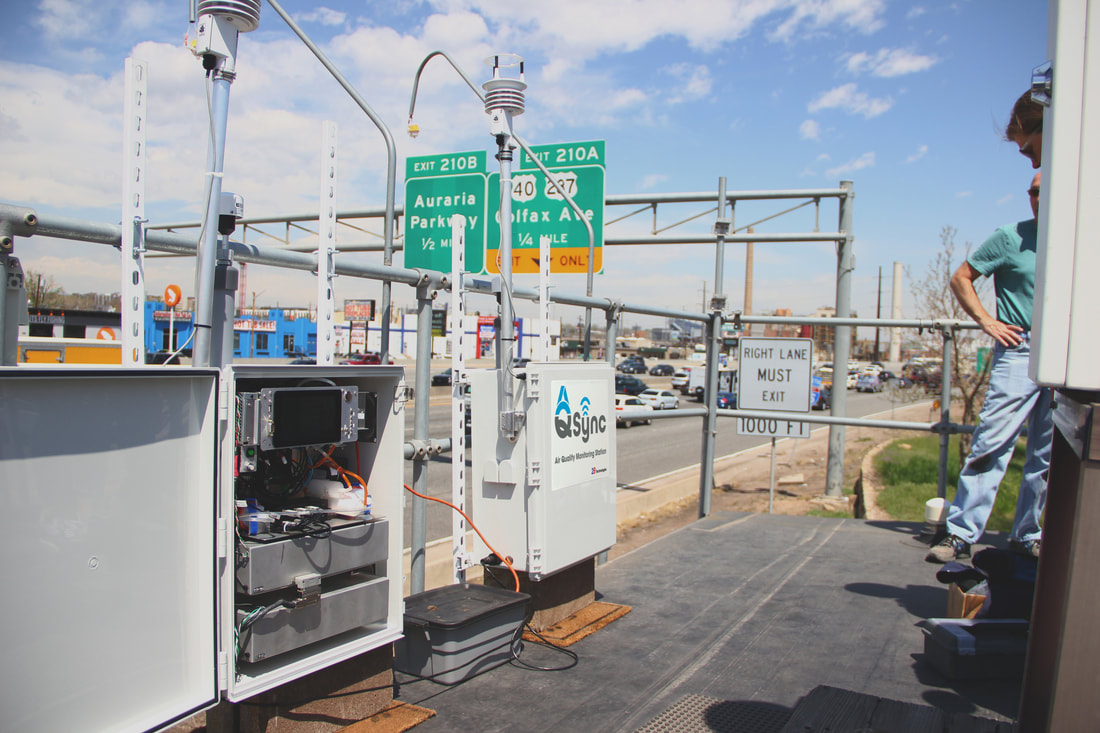 Links:
2Btech: AQsnyc Complete Air Monitoring Package
ozone: 2Btech ozone and other gases analyzer
The AQsync brochure: AQsync document
The AQsync video presentation from the conference: Presentation
The short video presentation: AQsync